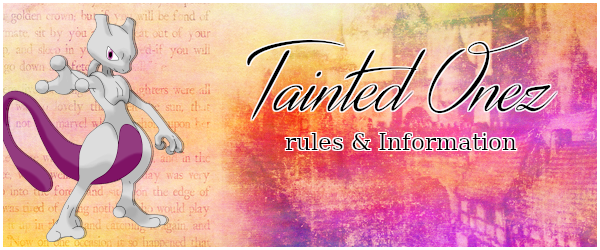 Welcome to the Tainted Onez aka Tainted Wingz's Forum! On this page we'll give you all the information you need to successfully navigate our forums and guide you through the rules and expectations we have in place so all of our members can have a stress-free, drama-free time here!
Quick Start Guides:
Newbie Pack - an all-in-one informational guide for those just starting out at the Tainted Onez! (WIP)
Angel-in-Training Sign-up Thread - a thread wherein members new to the forum can sign up for a mentor that can help guide them around the place and induct them into our community! (will open when we hit 25-50 members)
Posting Help! - A guide for posting here, from basic bolding and italics options, to doing neat stuff such as quoting, multi-quoting, and image hosting. (down to be redone)
Things-to-Know
Click on each heading below to guide you to where you want to go.
Elyaisa Zone information, Rules and Guidelines < WIP
More Information
Clubs Masterlist - Fanclabs Masterlist (WIP)